The Brassidents, that is
an amazing tuba, which provides the fat bass and groovy beats
two shredding trombones with lips of steel
two trumpets that blow the foam off the beer mug
a bass clarinet, the most virtuoso stovepipe in the world
a drummer who makes every sewing machine pale with envy with his doublebase
with envy
a female singer, who with her voice can stand up to the fat brass sound.
the fat brass sound
New on the brass scene around the Härtsfeld and in the Ostalbkreis, the Brassidents have already made a name for themselves. Whether as support for well-known bands such as Jamaram, VoxxClub or Folkshilfe as an independent headliner, with the Brassidents no foot remains still and no vocal organ quiet. In a time of ever more widespread "plug-in music", the 7 guys with their singer want to blow the listener's mind with their very own, honest and handmade brass sound.
Info
All musicians come from different genres: brass music, classical music,
jazz, rock, etc.
Genre: (as we call it) PPB- PartyPowerBrass
Sponsor: Konold Härtsfelder Holzindustrie GmbH
Rehearsal room: Rehearsals take place on the old agricultural estate of
Lukas' old farm. The former cowshed has been converted into a comfortable
comfortable, professional band room.
Line-up
Clarinet/ Keys: Felix Stickel
Trumpet: Lukas Eberle, Peter Mang
Trombone: Jan Wiedenmann, Bernhard Sing
Tuba: Michael Brenner
Drums: Peter Brenner
Vocals: Nadine Lindacher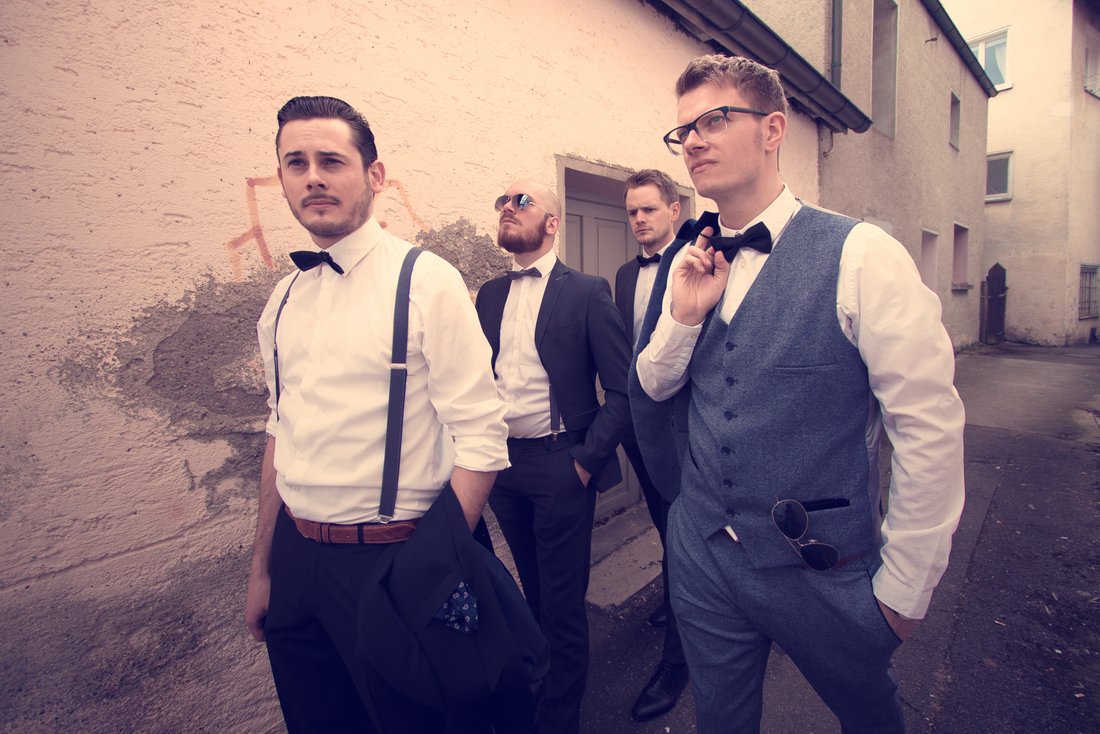 Jiggles and the Hairstylers
Get the hair pomade and the petticoats out of the closet and put on your dancing shoes, because Jiggle and the Hairstylers are back in town. This young rock'n'roll combo from the south has been successfully rolling through the country for more than 10 years now and proves time and again that good old rock'n'roll can sound fresh, modern, energetic and yet old-school. Fast guitar riffs backed by thick double bass sound as well as rousing sax solos crown the drum beat. Well-known and maybe a little less known songs from the time of good old Rock`n`Roll are performed. Even songs from the 90s and 2000s were put through the "rock'n'roll meat grinder". One thing is for sure, Jiggle and the Hairstylers stands for danceable Rock`n`Roll without any age restrictions.

Bringing back the good vibes! Bass, good humour and always a smile on his face. The likeable Swabian has crept into the hearts of the visitors with his style. His current chart hit "Myself" together with Cuebrick keeps climbing up on Spotify! In total, he counts more than 5 million streams on Spotify! Top 100 clubs, as well as national and also international festivals like the Ultra Music Festival or Spring Break Island Festival in Croatia are among his references. Good Vibes Only is his message and you can feel it!