The Mission Statement of the StuVe
We as StuVe are the representatives and organs of the constituted student body. We are made up of students and thus form the "student self-administration". With our guiding principles we define what we stand for, what we want to achieve and how we want to achieve it.
Our mission statement was unanimously adopted by the Student Parliament on 23 May 2018.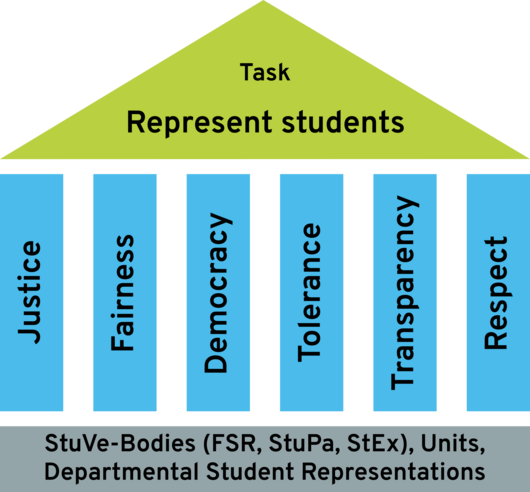 Vision
We want to represent and defend the interests, concerns, ideas and rights of all students at Ulm University in the best possible way, both internally and externally.
We want to live a respectful coexistence and diversity of opinions, which we achieve through openness, tolerance and discussion within the StuVe.
We see ourselves as a contact and information interface and thus represent a link between the students and the university.
Mission
We want to increase the current awareness and reach of the StuVe among students.
We want to improve and facilitate the living space "university" in the sense of the students through (self-)help, support and advice.
We as StuVe form a community, which we show through a unified appearance and close cooperation of the different sections.
Fundamental principles
We want to live democratic, fair and transparent communication internally and externally.
We as StuVe see ourselves as part of a large unit that works closely together, shares tasks and supports each other.
Justice, fairness, democracy, tolerance, transparency and respect are fundamental pillars for us.
Civil Clause of the StuVe
In accordance with our self-conception and in the spirit of the peaceful character of the German constitution we as StuVe Ulm decided not to cooperate with any armament industry. Instead, we engage ourselves for an entirely civil research and a peaceful cohabitation in the world.
That's why the Student Parliament enacted a 'Zivilklausel' (Civil Clause), which prohibits the cooperation of the StuVe or any of its subunits with any armament industry. The implementation of this rule is regulated by the 'Zivilklausel-Ordnung der StuVe'.
Our blacklist is a list of companies we do not want to work with.